EggHaulers is a project that started in 2011. At the time the cost of making molds for a limited quantity specialty product made it too cost prohibitive to create. Over the course of 6 years the industry in Large Scale has changed. Major manufacturers have gone out of business and the Large Scale market has gone from the fasting growing to one that has stabilized. Maybe it has even gotten a little smaller. It is of course still one of the best way to play with trains.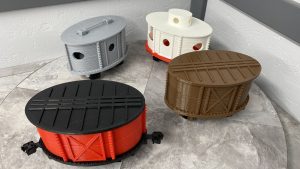 EggHaulers is a one man, one women business. With the help a two great designers we have ventured forth this year into the world of 3D printing. It is our hope that we can create some EggHaulers for people that are still having a blast running their Eggliners. 3D printing is not the fastest process in the world. It can take over 10 hours just to make one EggHauler. We will try to stay in stock, but if we get too many orders we might fall behind.
If this goes very very well, maybe we might just have to buy another 3D printer. We are not sure which direction this business will go. I hope in the end we will be able to fulfill a dream that was started over seven years ago. It really will be great to get photos of EggHaulers running all around the world.
Contant us at info@egghaulers.com